New EPLAN Data Portal Offers Enhancements for Searching and Finding Device Data
July 26, 2021
News
The new EPLAN Data Portal, with a new user interface and improved search algorithms, is designed to ease the process of selecting appropriate product data in engineering.
Per the company, expanded search parameters mean that users can find the components they are looking for and individualized solutions based on configurators can be intuitively generated – as demonstrated by the Lenze product configurator.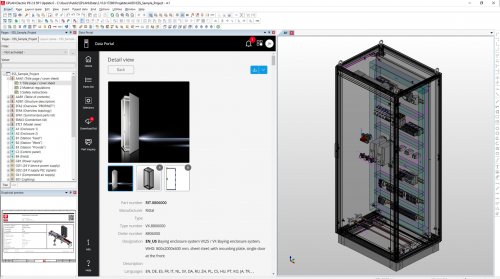 More than one third of all the data in the EPLAN Data Portal – for instance, those from Rittal – already conforms to the new, high quality Data Standard.

The new EPLAN Platform is on the verge of being released and will also mark the moment when the EPLAN Data Portal will exclusively be available for use in the EPLAN ePulse cloud environment. The platform's updated user interface offers enhancements for searching for and finding device data. Improved search algorithms and parameters allow users to find the appropriate components to download. Increased system performance is also designed to ensure greater speed when selecting components. Another new feature is the integration of the Lenze product configurator.

A real life example: A user needs a frequency inverter. Using the Lenze Easy Product Finder, said user needs just a few steps to find a suitable device from the company's i550 series of devices. The defining characteristics such as rated power, supply network type, and the type of fieldbus network are included as selection criteria. Once users have decided on a particular device based on these parameters, the associated EPLAN data can be generated in the detail view and then imported into the CAE solution's device management.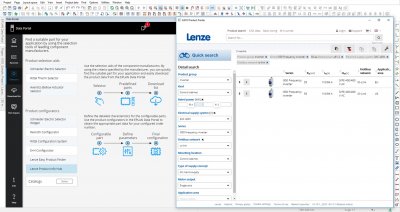 Portal users need only a few step to be able to find a suitable i550 series device using configurators such as the Lenze Easy Product Finder.

Per the company, the configurators of additional manufacturers, including Endress+Hauser, Bosch Rexroth, and Rittal, all work in a similar way. This makes each manufacturer portfolio accessible to design engineers. Selecting devices and acquiring high quality data is suitable. The data is up to date and can be transferred directly into projects. Similarly to configuring features for a new car, users are guided through the various product families of the assorted manufacturers. Integrating configurators doesn't just expand the data available in the portal (more than 1 million data sets) by approximately two million configurable variants, it also makes it suitable for users to compile high quality device data.
In addition, there are selectors from Aventics, IPF, and Schneider Electric that ensure ideal product selection. According to the company, the data is correct thanks to the targeted narrowing of selections via search parameters. This portfolio will soon be expanded with the offerings from two additional global players.

Per the company, more than one third of the data on the portal already conforms to the new Data Standard, and solutions provider EPLAN has set further goals: half of all the device data should meet the Data Standard by the end of 2022, if possible. This calls for further commitments from device manufacturers, many of whom are recognizing the benefits of having 100 percent digital data. Big players that have been pioneers in this in the international arena include Chint (China), IFM, Pilz, Rittal, and SMC (Europe), Numatics (USA) and Omron (Japan).

For more information, visit: www.epulse.com/en.html