Product of the Week: AMTELCO E&M to VoIP Gateway Appliance
April 05, 2021
Blog
Is your company headed back to the office? If so, you'll need to be ready to take phone calls.
AMTELCO's E&M to VoIP Gateway Appliance is a telephone switching system that supports bi-directional connection of four analog E&M lead channels to a corresponding SIP channel on the platform's 10/100 Mbps Ethernet interfaces brought out over either two or four RJ45 ports. The system also supports voice activation (VOX) for M-lead signals.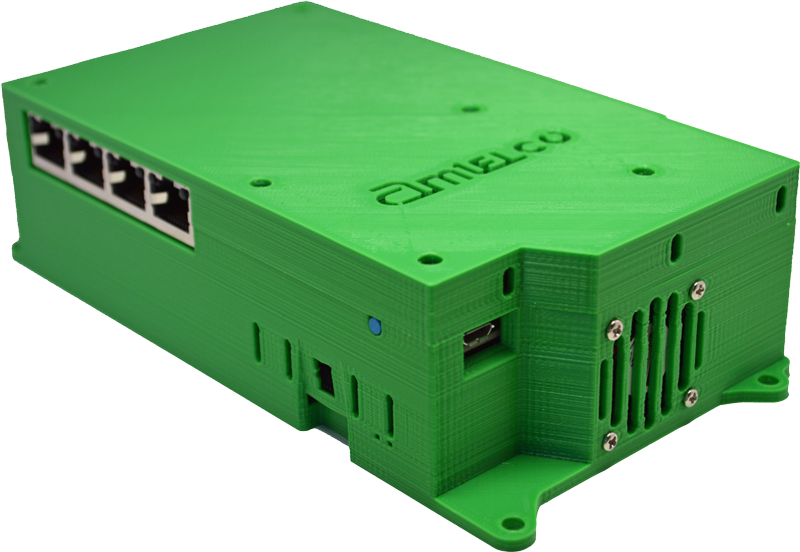 In addition to manual radio interface support, the AMTELCO E&M VoIP Gateway Appliance is compatible with four E&M signaling variations including Type I, Type II, Type IV, and Type V. These variations support the following use cases:
Type I: Signals from the PBX to the signaling unit using the "M" lead and incoming calls from the network or central office over the "E" lead. It is the most common E&M variation in the U.S. and Japan.
Type II & IV: Leverage the E&M wires plus Signal Battery (SB) and Signal Ground (SG) leads to improve noise immunity for the same use case as Type I.
Type V: Allows for two PBXs to be connected by crossing the E&M leads and Tx and Rx pairs. This is the most common E&M implementation outside of the U.S. and Japan.
The system runs a Raspbian (jessie) operating system and leverages the version 13.15.1 of the open-source Asterisk Long Term Support (LTS) communications framework, which enables the development of private branch exchange (PBX) environments based on Linux, BSD, or OS X distributions. Asterisk supports VoIP protocols such as SIP, MGCP, IAX, and H.323 (gateway and client), as well as voicemail services like call conferencing, caller ID, call queuing, directory, interactive voice response, and three-way calling.
Asterisk and the AMTELCO appliance are interoperable out of the box, meaning no additional VoIP hardware is required in order for one or more VoIP providers to start handling incoming and/or outgoing calls.
The AMTELCO E&M VoIP Gateway Appliance in Action
The 6.25" x 3.625" x 1.875" AMTELCO E&M VoIP Gateway Appliance also features an internal webserver that enables users to program E&M ports or configure the Asterisk framework's standard dialplan entries through a web browser. The system can be powered via 48VDC 802.3at Power over Ethernet (PoE) or a Micro USB adaptor that delivers +5 VDC @ 2.5 Amps. These can also be implemented redundantly. Once powered on, the DHCP protocol is used to assign default IPs.
While in operation, the platform features an adjustable gain of -20dB to +10dB for transmitting communications signals in either direction. Onboard LEDs showcase link/activity status of both the M-lead (triggering) and E-lead (detection).
Independent E-lead detection and M-lead triggering controls are available for implementing radio interfaces. Additional connectivity options can be accessed by connecting to a host PC and SSHing into the base Linux environment or Asterisk utilities.
Getting Started with the AMTELCO E&M VoIP Gateway Appliance
AMTELCO drivers are available for download on the company website, as is an XDS Library reference manual that contains various functions that can be used with the company's hardware. Those new to working with the Asterisk framework can also find an exhaustive list of background material and resources at www.voip-info.org/asterisk.
For more information on the E&M VoIP Gateway Appliance, visit the product page at xds.amtelco.com/boards/em-voip-gateway-appliance, check out the company's partners and distributors page, or check out the resources below.
Resources: